Snowman Plush Storage Box Round Picture Frame Giving Stocking Stuffer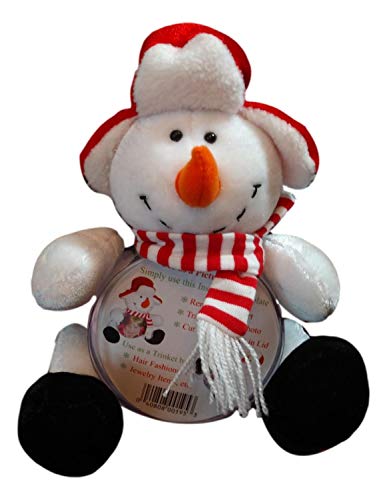 Snowman Plush Storage Box Round Picture Frame Giving Stocking Stuffer
Jolly plush snowman with hat and scarf
PHOTO FRAME: Adorable plush snowman with a extra busy belly. Approximately 3 inches in diameter. Hinged lid allows for multi-use decor on this cute Christmas themed, winter ready Holiday Gift.
EASY TO CUSTOMIZE: The belly of this snowman is hollow with a hinged clear plastic lid that allows for storage of seasonal treats, small gift items or even as an alternative to a stocking. Makes a fun gift.
SWEETEST HOLIDAY PHOTOS: It's the best time of year to send photos to those your care about. The lid is double pane plastic which creates an easy way to share your Holiday or Year end photos with your loved ones. Simply use the paper insert as a frame template to trace around the photo. Cut the circle and insert the photo.
MANY OCCASIONS: It's a perfect fit for Holiday parties, Christmas desert tables, Craft fair booths and Teacher gifts. Grandparents will love it!
WHITE ELEPHANT GIFT: Looking for a fun white elephant gift that keeps the laughs going? Insert a funny or embarrassing photo inside this photo frame snowman lid and fill the belly with something hilarious. People will get a real kick out of the present of many surprises!
---