Toe Separators To Correct Toes & Relief Pain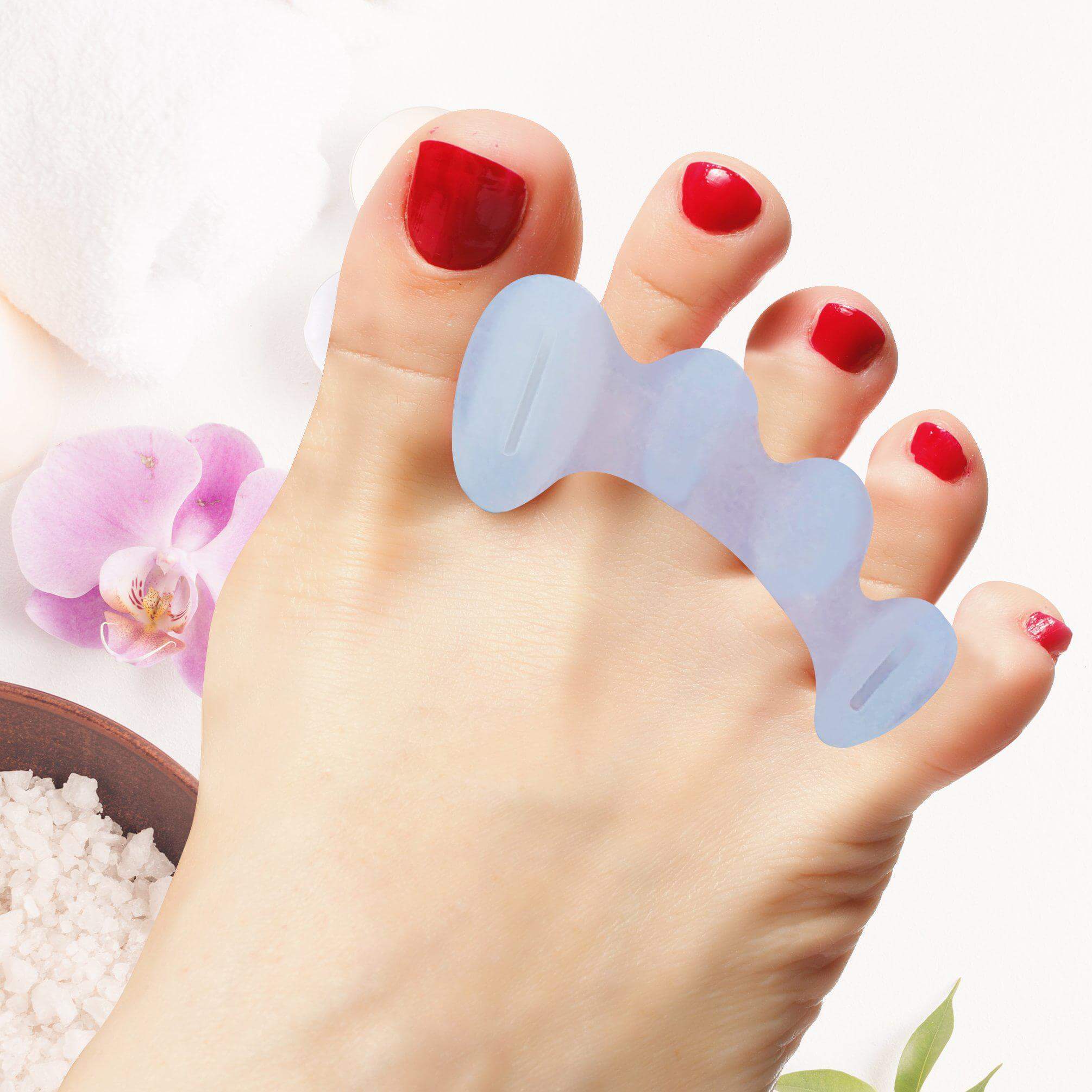 Toe Separators To Correct Toes & Relief Pain
FITS WOMENS SHOES SIZES 9-12 US, MENS SHOE SIZES 7-11 US, MEDIUM WIDTH Please note these are approximations. Your size is based on foot and toe width. Your shoe size is not necessarily going to be accurate in terms of toe spacing. If your toes are very close together, start with the soft version. They can be individually customized to fit your unique feet. Be sure to read the instructions to make modifications.

PAIN RELIEF - Our Toe Separators are designed to provide extra space between your toes to keep them separated which will prevent rubbing, relieve pressure and maintain a proper alignment, offering you relief from bunions & relaxation for your tense muscles which makes our toe spacers the best choice to correct your toes & to get pain relief through safe and natural ways without surgery.

DURABLE & COMFORTABLE - Our Bunion Toe Separators are crafted carefully of durable soft and stretchable medical grade silicone which is 100% safe and friendly to your toes. Feel the bunion relief features of an ergonomic design that conforms to the physiological structure of your foot. It's easy to use and easy to clean with soap and water. LIFETIME 100% SATISFACTION GUARANTEE, if you aren't happy for any reason contact us and we'll be happy to help

PERFECT FOR MANY FOOT ISSUES - Our Rigorously Tested Toe Protectors can be used to address issues such as Bunions, Capsulitis, Corns, Bunionette, Hallux Valgus, Hammertoes, Claw Toes, Crooked Toes, Overlapping Toes Neuromas Plantar Fasciitis, Ingrown Toenails, Flat Feet, Lower Leg Pain, Sesamoiditis Runner's Knee, and Shin Splints, which will contribute to greater personal stability & balance.

RESTORE & STRENGTHEN - Wearing your Bunion Correctors regularly will increase the flexibility in your toes and will align, strengthen & restore them to their natural state; which can enhance your athletic performance and reduce strain or injury. Our bunion pads will add stability and dexterity to your overall posture and strengthen foot muscles, while increasing arch support resulting for greater comfort.



⭐Why Choosing Our Toe Separators?
▶️ It's Crafted Carefully of The Best Quality Materials With The Highest Quality Standards to Meet All Your Needs and to Exceed Your Expectations.
Unlike Cheap Toe Separators Out There, Our Bunion Corrector Will Give You Long-Lasting Relief From Foot and Toe Pain, Also Will Increase The 
Flexibility In Your Toes and Will Align, Strengthen & Restore Them to Their Natural State.

⭐ Some of Our Toe Separators Benefits:
✅ Gently Re-Align Your Feet to Their Natural State
✅ Contribute to Greater Personal Stability & Balance                
✅ Enhance Your Athletic Performance and Reduce Strain or Injury
✅ Add Stability and Dexterity to Your Overall Posture
                                                               
⭐ Need More Reasons?  
✅ Reusable and Essay to Clean
✅ One Size Fits Most
✅ Made of Medical Grade Silicone
✅ 100% Satisfaction Guaranteed
⭐ Our Toe Corrector Available in 3 Options to Choose From:
☑️ Option A: - Hard Style (To be Worn During Day Time While Muscles are Engaged and It Can be Worn with Shoes). 
☑️ Option B: - Soft Style (To be Worn at Night While Sleeping, Coming with Free Bonus). 
☑️ Option C: - Ultimate Package For Total Foot Health, Includes All Items From Option A & B at a Special Price.



---